| | |
| --- | --- |
| | Chromebook Tips: How to Fix Repeating Letters |
If you notice that letters type repeatedly when you tap on a key of the GCA Chromebook, follow these instructions to fix the settings on the device.
1. Click on the symbols of the wifi, battery, and clock in the lower right corner of your Chromebook.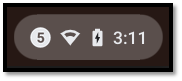 2. In the pop-up box that appears, choose the gear icon to adjust the settings of your Chromebook. This is different than settings in your browser.

3. A new pop-up will open. Scroll down the page until you see Device. Choose the arrow for Keyboard.

4. Scroll down to see the option for Enable auto-repeat. Set each function to the following levels, matching the picture shown below.
A. Delay before repeat: this refers to how long you can rest your finger on a key before it begins to repeat the letter or number. Set this in the middle of the range for best results.
B. Repeat rate: this refers to how quickly the letter or number will repeat on your screen after you have held it down purposefully to repeat. Set this in the upper part of the range for best results, about 3/4 of the way across.