| | |
| --- | --- |
| | Viewing and Adding Extensions added to the Chrome Browser |
GCA places extensions on the student's Chrome browser from time to time. To see and use these extensions on a personal device, the student's GCA Google account must be logged in from a Chrome browser and synced. Want to make sure you are synced in the Chrome browser? Click here to see detailed instructions.
If a student is using a GCA-issued Chromebook, the GCA Google account is automatically synced and no further action is needed to see or use GCA extensions.
Use these instructions to see all the extensions in your Chrome browser.
1. Once you are in the GCA student account in Chrome, click on the puzzle piece in the upper right corner. Choose Manage Extensions to see all the extensions currently on your browser.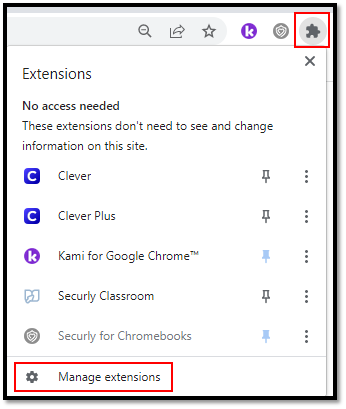 2. You will see the notice at the top confirming that this browser window is managed by GCA. If you do not see this message, please confirm that you have the student GCA Google account synced in the Chrome window.

3. Some extensions that you see here are managed by GCA. That means they are automatically installed, automatically working, and cannot be removed. They cannot be turned off either, as indicated by the gray button that cannot be toggled.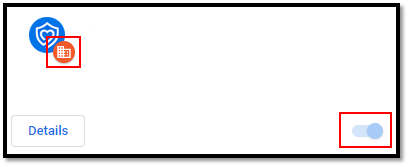 4. Other extensions are ones allowed to be installed by students, as needed. These can and should be removed if you are no longer using them. Simply click on Remove. If you are still using them, they can be turned on and off with the toggle switch.