| | |
| --- | --- |
| | Chromebook Tips: Finding Your Downloads on a Chromebook |
A Chromebook has limited hard drive space. Occasionally, a document may need to be downloaded to your device. Screenshots and PDFs will also be in the Downloads folder. To locate your Downloads folder, follow the instructions below.
1. In the lower left corner of the screen, click on the circular icon, pictured below.

2. The following screen will come up near the bottom. Click on Files. If you don't see Files, click on the arrow up to show all icons.

3. In the pop-up box, click on My files.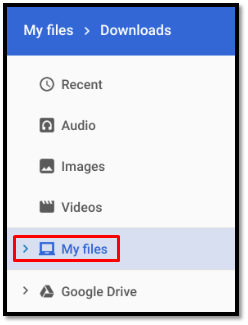 4. Then click on Downloads. In this folder are any documents that have been downloaded to your Chromebook. If you have taken screenshots, they will automatically be placed in this folder.