Using the Canvas Dashboard

List View
Once you have personalized your courses in the Card View of your Canvas Dashboard, the nicknames and font colors will carry over to the List View.
1) The List View on the Canvas Dashboard pulls information from the Calendar in Canvas. On your Canvas Dashboard, you can change your view using the three dots in the upper right corner of the screen.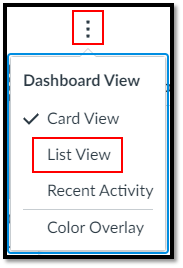 2) The Dashboard will show your courses in an alphabetical list. Each course shows Calendar events, Announcements, and anything with a due date for that day. Scroll up and down to see past or future days.

3) In the upper right corner of the Dashboard, clicking on Today will bring your view back to the current date.

4) The "+" sign will allow you to add your own To Do item to the list.

Add a Title to your To Do item
Choose the Date and Time of the item
Optional: choose the Course that applies to the item
Add any Details
Be sure to click Save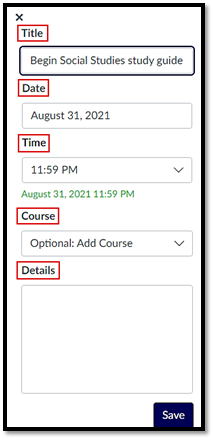 5) The bell icon will show you any alerts. You can click directly into the assignment from any that are listed under the Alerts.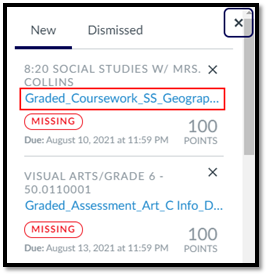 6) If you have nicknamed a course in the Card View, it will show up with the same nickname in the List View. Note: the nickname can only be applied in the Card View but after that, the nickname will appear in the List View and the Calendar.
7) Check boxes allow you to check off the items you have completed. This is just a visual check for you...it does not make the assignment complete. Links take you directly to assignments or Calendar events.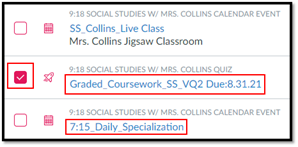 8) Any To Do item you created yourself will be listed here too! If you chose a course for your To Do item, it will be listed with that course.