| | |
| --- | --- |
| | Daily Live Classes from the Student Canvas Account |
Always use the button for Today's Live Classes!
Why? Because it will always tell you exactly where you need to be at the right time, even on testing days, or Enhanced Learning Days.

Clicking a button for Today's Live Classes will provide the following information, as shown in the screenshot below. *Note! On testing days or other "off-schedule" days, you will see a message directing you where to find your Class sessions for that day.
A title showing the date of the current classes shown in the dropdown.
An option to click on days ahead in the week to see the schedule in advance. Please note! This view is only the current week. If it is Friday and you click on Monday, you will see the past Monday, not the next week's Monday. To see future weeks, view it in the Canvas Calendar.
A button to translate the schedule to Spanish.
The Join Class button that is only visible and available during the actual live time of your Class session. Click Join Class to find the Launch button that gets you into Class!
The name of the course in Canvas associated with the live Class session.
A Modules button that leads directly to the Modules for that course content.
A link to submit a request for help if the schedule shown is incorrect or not working.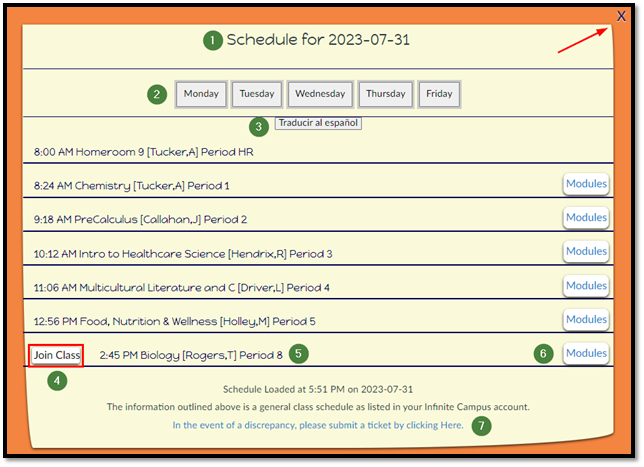 After you choose any Join Class from Today's Live Classes, you will choose Launch on the next screen.