| | |
| --- | --- |
| | Chromebook Tips: Using the Marker in a Screencast Video on a Chromebook |
**This marker option is only available when using the Screencast App on a Chromebook, not when recording with keystrokes.**
The marker is available to you during an active screencast recording and allows you to mark on your screen as you are presenting. Once the recording has ended, you cannot add new marks to the video.
If you need to learn how to begin using the Screencast app on the GCA Chromebook, click here.
1. During the recording, right-click on the marker icon to choose the color of your marker. A right click on the Chromebook mouse pad is done using two fingers to click once.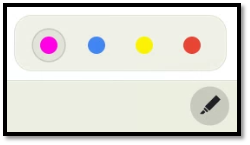 2. Use the mouse to make marks on your screen during the recording. An example is shown below. To stop using the marker, click on the marker icon again to turn it off and remove all marks.