| | |
| --- | --- |
| | Updating your Chrome Browser on a Chromebook |
All the GCA programs are designed to function best with the most current version of Chrome. For any difficulties with GCA programs, follow these instructions to check your ChromeOS on a Chromebook for the latest version.
**Your Chrome browser should be at version 117 or higher.**
1. In the lower right corner of your Chromebook, click on the clock/battery/wifi icon to open your Quick Settings.

2. Click on the gear icon to see your Settings.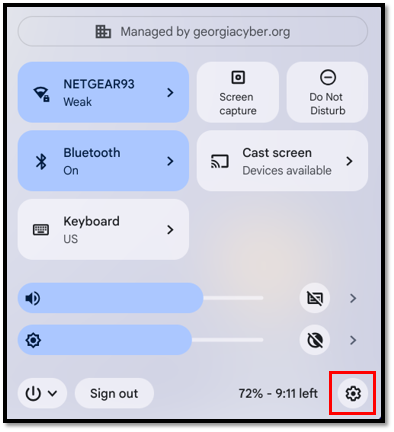 3. Choose About ChromeOS from the bottom of the list of settings on the left.

4. You can view the current browser version here. If you see anything less than the recommended version above, choose to Check for updates.

5. If there are any new updates, they will begin to process. This step may take a few minutes. Please do not interrupt the process. Once completed, choose Restart.

6. Your Chromebook will be taken back to the sign-in screen. Enter your password.