| | |
| --- | --- |
| | Creating a Canvas Observer Account for Parents and Learning Coaches |
If you do not have a Canvas Observer account already created by your Family Engagement Liaison (FEL), follow these instructions.
**VERY IMPORTANT!! If you try to create a Canvas Observer account using your email address and see a message that one already exists, please submit a request for a password reset instead.
1) Obtain a pairing code from your student's Canvas account. You must have the pairing code from your student's Canvas account before anything else. In the Account, then Settings, of your student's Canvas account, choose Pair with Observer, located on the far right of the Settings page.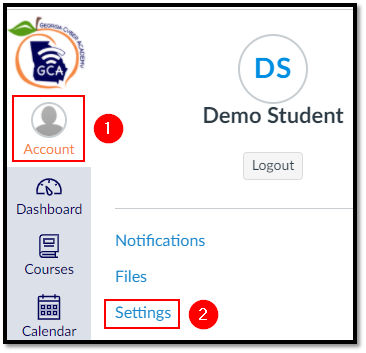 2) In the Pair with Observer box, copy the code you see there, exactly as shown, with capital or lowercase letters and numbers. Select OK. The box will disappear.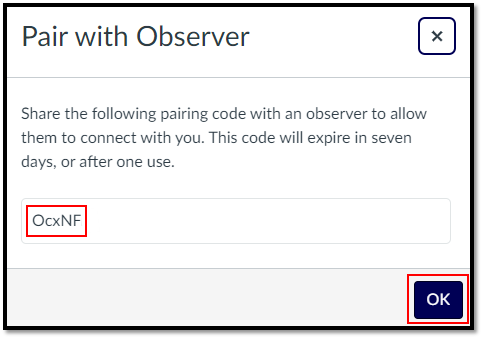 3) Having copied the pairing code in step 2, go to the Canvas Observer login link on a separate computer from the student's GCA-issued Chromebook. This is not the same as the student's Canvas login link.
http://georgiacyber.instructure.com/login/canvas
4) Choose the option at the top, Click Here For an Account.

5) In the box for creating the account, enter the following:
A. Use your full name as the Learning Coach or Parent. Please do not use a nickname.
B. Use the email address you use for all GCA programs such as Infinite Campus.
C. Create your own password and confirm it.
D. Type in the pairing code you copied from your student's Canvas account in step 2.
E. Check the box for terms of use and select Start Participating